* This piece follows directly after the events of The Return of Optimus Prime at the conclusion of season three of the American series. Consider this the second animated motion picture afterwards. The main new induction into continuity is Primus, as he was not originally in the G1 animated series...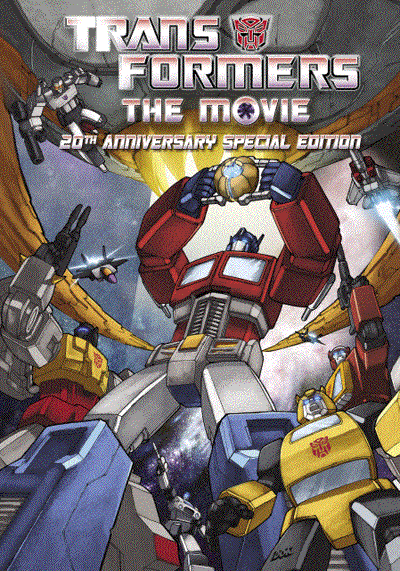 Prelude:
In the beginning, there was Primus and Unicron...
The Light and the Dark...
Good and Evil...

The two brothers Battled through the ages...
Until primus finally sacrificed himself to subdue his evil brother.
Primus became Cybertron...
And the Transformers, were born.

Peace reigned for a time, until war began amongst the cybertronians.
Eventually, Unicron would once more be awakened...
Only to be subdued once again by the power of Primus... the matrix.

With Unicron seemingly destroyed for good...
And the power of primus diminished...
Spread out upon his Cybertronians and held within his chosen creation;
" The Prime "...

The war of the brothers had come to an end... or did it?

In the beginning, there was Primus and Unicron...
But there was another...
He awakens from his slumber, alerted by the final destruction of one of his siblings. The energy signature that dissipates throughout the cosmos has finally reached him; here at the end of the universe. He reaches out further into the cosmos to sense his other brother, but finds a faint trace of his essence, scattered across the center of the universe. What has happened to his brothers? What could have destroyed one, and weakened the other so? He meditates in deep thought, for what seems like an eternity. Maybe it is? He is as ageless as he is timeless, for he has mastered space and time himself. What has happened to his younger brothers? He ponders once more, fearing his worst fears have come to pass. Their sibling squabble has finally become the end of them. They've finally destroyed themselves in their never ending battle, and they've left their brother alone. Alone. He remembers alone, the time before Unicron and Primus came to be. He remembers alone... and does not like it. Something must be done he thinks to himself.
" I must not be left alone !!!!!!!! "
The thunderous voice roars throughout the cosmos, shattering nearby planets as the timeless one awakens the power within him; using his voice for the 1st time in millennia. Reaching out once more, he "feels" the universe, and the creatures that inhabit it. He reaches out to all the technology and data he can find. He "reads" the universe with a seemingly powerful form of telepathy. He reaches for the information he needs, and pieces together the history and events that have befallen his younger brothers. He discovers the fate of Primus, and his creations, the transformers. He knows of Cybertron and the Cybertronians. He knows of the war amongst them. He knows of the matrix, and the Primes that have held it. He also learns of Unicron, and the fate that befell him at the hand of the creations of Primus. He sees all of this, and speaks once more.
" Primus. Unicron. What have you done to yourselves? How can beings as powerful and mighty as yourselves lose sight of your destiny so easily. There must be a way to save you both from yourselves. If there is a way, I will find it. For I am the timeless one. I control space and time itself. I can...no. I WILL bring you both back. Together, we will achieve our destinies as we should have so long ago..."
Alone. He feels it once more. Something must be done... and it starts with the loneliness.
" Primus. It was a useless sacrifice to diminish yourself so much so much for your creation... but it was a unique idea, used sparingly. I to, will bear horsemen in my new era; though not so many as you had birthed. There shall be... four. Four horsemen, to herald my return to existence, and act as harbingers of my will. I will retain my power for myself, and just enough to return you and your brother to your rightful places. And most of all... for now... I will not be alone..."
The fabric of time and space bends around him. The power emanating from him is glorious. He pause for a moment... then it begins.
Creation.
" Legion. Come forth my first horseman. To you I bestow a small portion of me; the power of time itself..."
" Endgame. Come forth my second horseman. To you I bestow a small portion of me; the ability to siphon another's power..."
" Warfare. Come forth my third horseman. To you I bestow a small portion of me; the strength and power of your creator..."
" Bastion. Come forth my fourth and final horseman. You shall have my finest attribute. A small portion of myself; the control of the cosmos..."
They stand there, the four of them. A new and mighty creation. Their creator looks upon them, and he is pleased. The Black metallic gloss gleams from their armor. The glare of golden energy dissipates from their eyes. Like shadows enveloped in the light of gold, they stand before their master, and the one called Legion speaks.
" Our Father... your will be done. Tell us; by what name shall we call you? "
He hovers above them, enveloping them in his mighty shadow.
" My children... Call me by name. Call me by the name not spoken since my brothers Primus and Unicron shared my presence. Call me...
NEMESIS..."